12 Best Matching Family Christmas Pajamas for the Whole Family in 2022
The holidays are all about finding the perfect gifts, buying unique advent calendars, baking delicious festive treats, spending time with loved ones and, of course, rocking an awesome set of Christmas pajamas with your family.
Sure, you could wait until Christmas morning to capture that perfect photo opp, but we're sold on the idea of making these fun jammies your family's seasonal uniform. It's a great way to get a head start on the festivities, and there are so many fun designs to choose from at just about every major retailer. 
To help you get into the holiday spirit a little early this year, we've rounded up some cute (and fun!) things for everyone. Holiday pajamas -- from couples to kids of all ages (toddlers, newborns), and dogs!
Best Matching Pajamas For Families
1.FAMILY MATCHING REINDEER PLAID COTTON PAJAMAS SET, $32.99
It's impossible to look at these pajamas without cracking a smile. Your little ones will love the smiling reindeer design.
2.FAMILY MATCHING RED CHRISTMAS TREE SUITS FAMILY LOOK PAJAMA SET, $34.99
Capture the perfect family photo in these fun, Christmas tree pajamas that come in sizes for everyone — for men, women, children and babies. The best part? They're just as comfortable and cute as they look!
3.CHRISTMAS TREE AND REINDEER PATTERNED FAMILY MATCHING PAJAMAS SETS, $33.99
Everyone's bound to ask you where you got these Christams tree and reindeer pajamas this season. They're anything but ordinary and perfectly customizable.
4.CHRISTMAS GRINCH CARTOON PRINT FUNNY XMAS FAMILY MATCHING PAJAMAS SETS, $34.99
Countless shoppers attest that these pajamas are high quality. They are made from a soft and long-lasting material. Excellent elasticity for perfect fit, skin-friendly, breathable, comfortable and soft wearing, easy-to-clean and stain resistant.If you like Grinch,it will be a good choice for you!

5.Grinch Christmas Cartoon Print Family Matching Pajamas, $34.99
We love a set of PJs that you can wear during the holidays and for the rest of winter. This Grinch pattern will make you smile all season long.
6.RED PLAID CHRISTMAS REINDEER PRINT FAMILY MATCHING PAJAMAS SET, $33.99
If they're fascinated by Santa's reindeer, this pajama set needs to be on your radar. It comes with a long-sleeve red tee and festive bottoms sure to get you in the holiday spirit.
7.FAMILY MATCHING CHRISTMAS DEER AND SNOWFLAKE PAJAMAS SET, $32.99
These deer and snowflake patterned pajamas are the perfect set for your family to rock this holiday season! They have options for adults, teens, kids and even an adorable reindeer outfit for your toddler.
8.BLUE SNOWMAN PRINT CHRISTMAS FAMILY MATCHING PAJAMAS, $34.99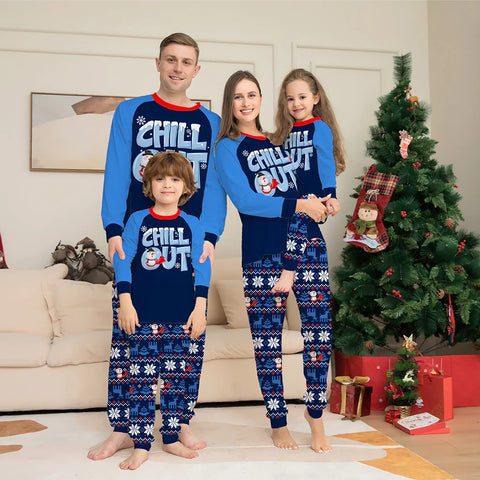 If you don't like red, the blue one is a good choice for you.You get a sleep top with "chill out" written in blue lettering and a pair of pajama pants with ribbed cuffs.
9.CHRISTMAS RED CHECKED PRINTED SHIRT PARENT-CHILD SUIT,  $35.99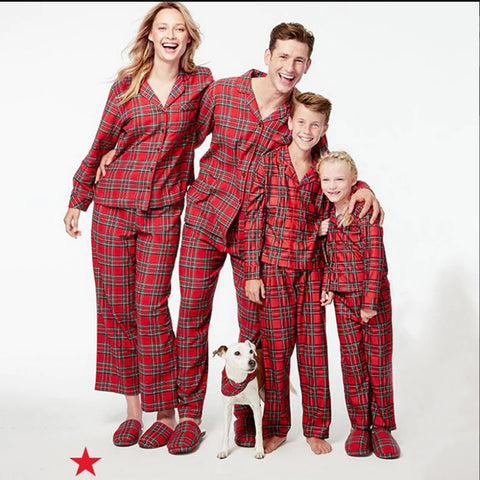 If you want a matching set of PJs for you and your partner but don't want to go overboard — these buffalo plaid button-front pajamas are ideal for the holidays and all winter long since they're not overly festive.
10.CHRISTMAS ELF PRINT STRIPED FAMILY MATCHING PAJAMAS SET, $33.99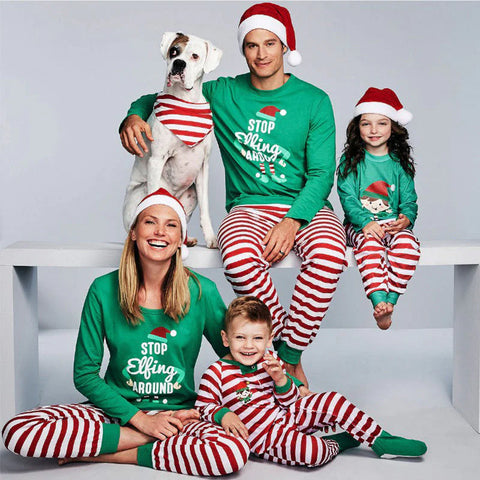 Get in touch with your inner Christmas elf in these funny Christmas elf striped pajamas. The snug-fitting striped bottoms are the perfect touch.
11.CUTE PUPPY PRINT CHRISTMAS FAMILY MATCHING PAJAMAS, $34.99
These family matching Christmas pjs With a cute and colorful graphic on each shirt, Christmas tree, animals, print "Merry Christmas". These pjs are sure to be hit this Christmas season! Grab the family and enjoy making memories in these classic family pajamas!
12.BLUE SNOWMAN PRINT CHRISTMAS FAMILY MATCHING PAJAMAS, $34.99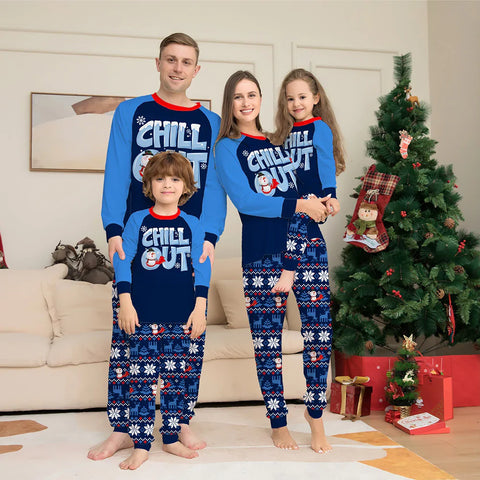 The family matching pjs is the best gift for Christmas morning. Bring the Christmas Jammies out during family game night, get matching sets as a couple to make your time together extra cute.