Best Matching Family Christmas Pajamas Sets
Matching family Christmas pajamas have been on the rise for a while, and Christmas 2023 is no different. 
Everyone loves (and needs) a great pair of comfortable pajamas! What better reason to give the gift of Pajamas this holiday season – or for that matter to celebrate those close to you at any special occasion throughout the year.
We've split our matching Christmas pajama recommendations by category — whether you're looking for the
classics
or
grinch
pajamas, we have you covered!
Best Matching Family Christmas Pajamas 2023: 
 1.FAMILY MATCHING RED CHRISTMAS TREE SUITS FAMILY LOOK PAJAMA SET
Family matching Christmas pyjamas are compose of cute Christmas print, long sleeves and round neck. Pj family set Christmas have elastic waist, comfortable elasticity, which perfect for wearing the matching Christmas pyjamas set in Christmas Eve and Christmas holiday morning.
THE REVIEWS:Bought these for a family Christmas party.. They fit as expected and the material is really nice. Not cheaply made! I would recommend these.
2.FAMILY MATCHING REINDEER PLAID COTTON PAJAMAS SET
Matching family christmas pajamas featuring adorable cartoon patterns and bright colors are perfectly matched with the Christmas decorations, nice gift for your family members or your best friends.
THE REVIEWS:I loved the softness and comfort the most. I purchased a size larger thinking that it may run small but it doesn not it is true to fit. And even after a few washes the softness is still there.
3.CHRISTMAS ELF PRINT STRIPED FAMILY MATCHING PAJAMAS SET
Do you like this color combination?This matching family pajama set features classic Christmas Santa hat printed in long-sleeved tops and festival style printed stretch pants(update), make these Pj's perfect for Christmas festivities.
THE REVIEWS:We have ordered on line PJs before and these were an absolutely great product comfortable, good texture, pretty true to size.
4.RED PLAID CHRISTMAS REINDEER PRINT FAMILY MATCHING PAJAMAS SET
Family Christmas pjs matching sets, red cute deer printed long sleeve tshirt tops and white red plaid pants, holiday xmas sleepwear Set for adults and Kids, full of Christmas elements.
THE REVIEWS:I gave a set of these to my daughter and her family for a Christmas gift and they loved it. I can not comment on how it feels, because none of the sets were for me, but everything fit and they all liked them.
5.GRINCH CHRISTMAS CARTOON PRINT FAMILY MATCHING PAJAMAS
They are made from a soft and long-lasting material. Excellent elasticity for perfect fit, skin-friendly, breathable, comfortable and soft wearing, easy-to-clean and stain resistant.Enjoy this amazing Grinch pajama set that emphasizes on superior quality. Featuring The Grinch from Dr. Seuss's "99% Grinch"
THE REVIEWS:Had so much fun at Christmas with all of us wearing the same pajamas!!! Made us laugh! Great fit and quality for the price!
6.FAMILY MATCHING BLUE CHRISTMAS TREE SUITS FAMILY LOOK PAJAMA SET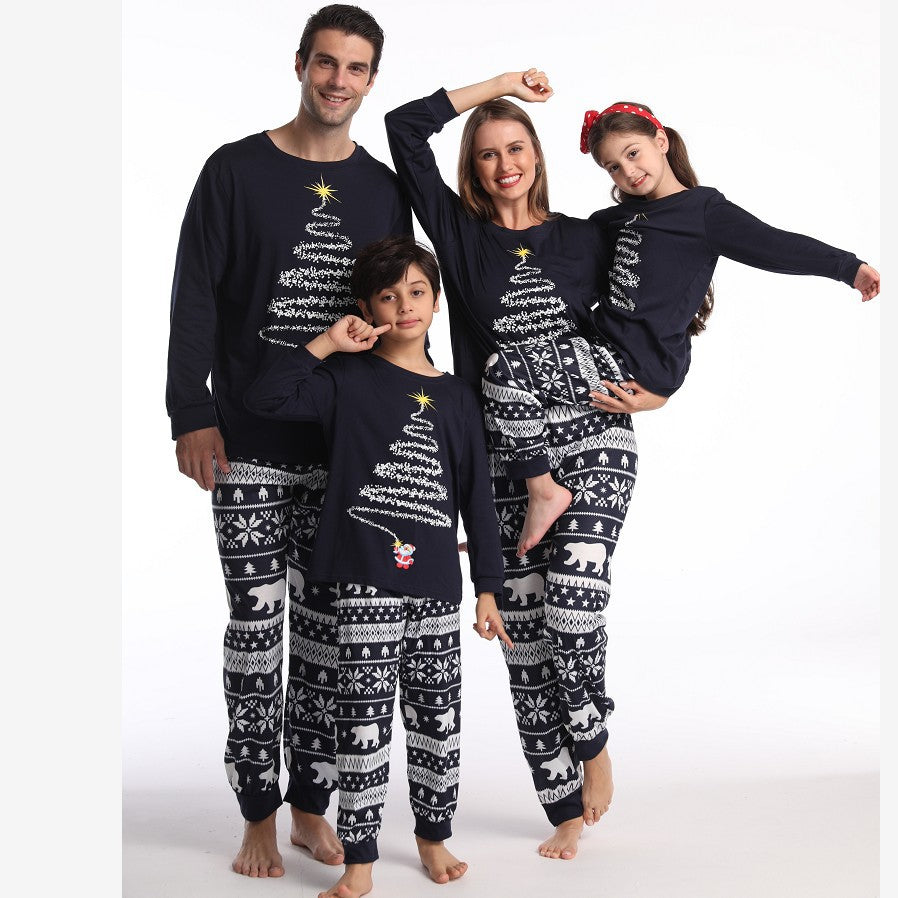 Polar Bear, Christmas Tree and Santa Claus, long sleeves, round neck pajama suit, Elastic waist, comfortable elasticity, easy to put on and off, perfect for Christmas celebrations.
THE REVIEWS:I absolutely love these pajamas! They fit perfectly and they are so soft and warm! I bought a pair for my husband, son, and our dog since he could not be left out! Highly recommend these!
7.GRINCH BEHAVE FOR THE HOLIDAYS FAMILY MATCHING CHRISTMAS PAJAMAS SETS
Start a holiday tradition with matching PJs for the whole family. Joyinbox Pajamas are made to last with fade resistant high-quality fabrics. Make Pajama  part of your holiday celebration this year! Keep the whole family full of Christmas spirit with our matching family Grinch pajamas.
THE REVIEWS:OMG I loooove my new pjs! Great quality and soooo nice keeps me super warm in cold days of NYC. I am so in love with it. Super fast shipping and well packed.
8.CLASSIC CHRISTMAS BUFFALO PLAID FAMILY MATCHING PAJAMAS SETS
These 2-piece buffalo plaid pajama sets for men, women,kids and pets are used are extra-soft, comfortably warm and with slight stretch. So comfy you'll want to live in them. Whether you're sleeping or lounging, these family Christmas buffalo plaid pajamas sets treat you to snuggle-worthy comfort all through.
THE REVIEWS:Cute, comfy and cozy. We used them for our Christmas cards! The butt flap does open, but you still have to undress to use the bathroom. Thick, high quality material, did not shrink in the wash.
9.FAMILY MATCHING SANTA PRINTED FAMILY PAJAMA SETS
Family Christmas pjs matching sets, cute Santa Claus printed long sleeve tshirt tops and Santa Claus pants, xmas holiday sleepwear Set for family, full of christmas elements.
THE REVIEWS:Have not used this yet. I got the whole set. My daughter has been wanting matching Christmas jammies for the whole family for almost 2 years. I got each of us one at a reasonable price.